India Lines up Banks for E-commerce Effort to Take on Amazon, Walmart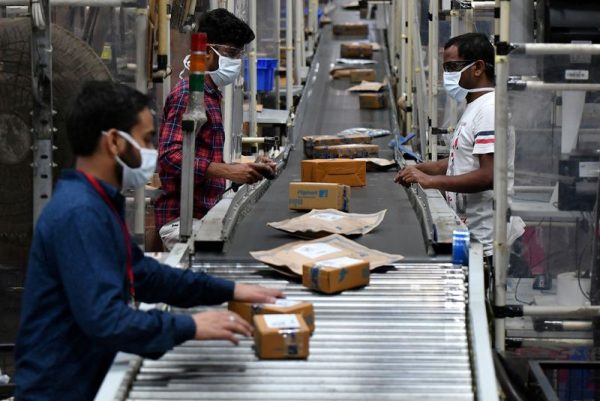 (C) Reuters. FILE PHOTO: Workers at Flipkart, a leading e-commerce firm in India, sort packets on a conveyor belt inside its fulfilment centre on the outskirts of Bengaluru, India, September 23, 2021. REUTERS/Samuel Rajkumar
By Munsif Vengattil and Nupur Anand
NEW DELHI (Reuters) -India's effort to break Amazon (NASDAQ:AMZN) Inc and Walmart (NYSE:WMT) Inc's dominance of its e-commerce sector, by establishing its own open network, has begun lining up banks and other key players needed to move it forward, sources familiar with the matter said.
Some of India's biggest banks are in discussions about setting up "buyer platforms" to let their customers place orders for goods and services over the Open Network for Digital Commerce (ONDC), which the Indian government soft-launched in April, the sources told Reuters.
The success of the network, which would promise equal access to all online sellers and buyers regardless of their size, is a priority for Prime Minister Narendra Modi, who faces pressure from small businesses to act against the outsized influence of Amazon and Walmart's Flipkart in India's e-commerce.
Policymakers in other countries as well are looking at ways to rein in big tech companies' dominance of online purchases.
"If you look at the seller side, anybody who can make their digital catalog visible using this common language will have access to a large pool of buyers shared across apps," ONDC Chief Executive T. Koshy said about the network. "It is no longer controlled by one large corporation."
Koshy said he had held talks with banks, venture capitalists and telecoms companies, but declined to name them or to comment on how far the discussions had progressed.
Indian e-commerce was worth more than $55 billion in gross merchandise value in 2021 and will grow to $350 billion by the end of this decade, according to government estimates. Amazon and Flipkart control more than 60% of that market, which now accounts for about 8% of consumer purchases in a country of 1.35 billion people.
ONDC aims to cover at least 100 cities and towns by August, with a target of signing up 900 million buyers and 1.2 million sellers in five years.
Bank of Baroda's chief digital officer, Akhil Handa, said his bank was in talks about the project but it was too early to talk about specific use cases.
"This certainly has the potential to be the next big thing," he said.
State Bank of India, Axis Bank, Punjab National Bank, ICICI, HDFC, Kotak Mahindra and IDFC First are among other lenders in discussions with ONDC to set up buyer platforms, three sources familiar with the matter told Reuters. They spoke on condition of anonymity because they were not authorised to speak to the media.
Kotak said it had invested in ONDC with the belief that the project would "redefine digital commerce in the country". It did not comment on buyer platforms.
The other banks did not respond to requests for comment.
The platforms would allow the banks to drive use of their cards, loans, and other services, the sources said.
The banks and other financial institutions had already committed to a combined initial investment of 2.55 billion rupees ($32.8 million) in the ONDC project.
While the project is moving forward, however, there were doubts whether it would diminish the presence of Amazon and Flipkart.
"The network is not about every small player colluding to make a big company like Amazon irrelevant," said Pranav Pai, managing partner at 3one4 Capital which invests in start-ups.
"Factors like loyalty and trust for Amazon's fulfilment services will still play a part in consumer choices online."
Amazon and Flipkart did not respond to requests for comment.
Venture capital firms Accel and Sequoia are also in talks about potentially investing in start-ups that would join ONDC, one of the sources said. Telecom firms Bharti Airtel and Vodafone (NASDAQ:VOD) Idea are in discussions on how they could utilise the network, two of the sources said.
The firms did not immediately respond to requests for comment.
Reuters reported last week that Alphabet (NASDAQ:GOOGL) Inc's Google was also in talks with ONDC, while Paytm, India's leading fintech company, had already joined.
India lines up banks for e-commerce effort to take on Amazon, Walmart
Article: investing.com
Oil Extends Losses As Recession Fears Mount
(C) Reuters. FILE PHOTO: Sticker reads crude oil on the side of a storage tank in the Permian Basin in Mentone, Loving County, Texas, U.S. November 22, 2019. REUTERS/Angus Mordant/
By Yuka Obayashi
TOKYO (Reuters) – Oil prices fell 2% in early trade on Thursday, extending losses from the previous day, as investors worried that aggressive U.S. interest rate hikes could trigger a recession and dent fuel demand.
U.S. West Texas Intermediate (WTI) crude futures fell $2.39, or 2.3%, to $103.80 a barrel by 0031 GMT. Brent crude futures dropped $2.24, or 2.0%, to $109.50 a barrel.
Both benchmarks tumbled around 3% on Wednesday to hit their lowest levels since mid-May.
Investors are continuing to assess how worried they need to be about central banks potentially pushing the world economy into recession as they attempt to curb inflation with interest rate increases.
"Oil markets remained under pressure as investors were concerned that U.S. rate hikes would stall an economic recovery and dampen fuel demand," said Kazuhiko Saito, chief analyst at Fujitomi Securities Co Ltd.
"The U.S. and European hedge funds have been selling off their positions ahead of the end of the second quarter, which is also cooling investor sentiment," he said, predicting the WTI could fall below $100 a barrel before the July 4 holiday in the United States.
The Federal Reserve is not trying to engineer a recession to stop inflation but is fully committed to bringing prices under control even if doing so risks an economic downturn, U.S. central bank chief Jerome Powell said on Wednesday.
U.S. President Joe Biden, meanwhile, called on Congress to pass a three-month suspension of the federal gasoline tax to help combat record pump prices and provide temporary relief for American families this summer.
"The news temporarily boosted the oil product prices, but it was later viewed that even if the gasoline tax was suspended, retail prices would remain high, making it difficult to stimulate demand," Fujitomi's Saito said.
The U.S. Energy Information Administration said its weekly oil data, which was scheduled for release on Thursday, will be delayed due to systems issues until at least next week.
Oil extends losses as recession fears mount
Source: investing.com
BMW Starts Production at New $2.2 Billion China Plant to Ramp up EV Output
(C) Reuters. FILE PHOTO: A BMW iX electric vehicle (EV) is seen displayed at the BMW booth during a media day for the Auto Shanghai show in Shanghai, China April 19, 2021. REUTERS/Aly Song
SHANGHAI (Reuters) – Germany's BMW said on Thursday that production has formally begun at a new plant in China with an investment of 15 billion yuan ($2.24 billion) as the carmaker accelerates electric vehicle (EV) production.
The Lydia plant, BMW's third car assembly facility in China, located in the northeastern city of Shenyang, Liaoning province, will increase BMW's annual output in the world's biggest auto market to 830,000 vehicles from 700,0000 in 2021, the company said.
The plant is designed to be capable of producing battery-powered electric cars only according to market demand on its flexible manufacturing lines, BMW said.
The first model that will roll off the Lydia plant's production lines is the i3, a pure electric mid-sized sports sedan, BMW said, increasing the range of its EV models for Chinese customers to 13 next year.
Tesla (NASDAQ:TSLA) and Chinese automakers such as BYD dominate the booming EV market in China, with sales more than doubling from a year ago. Meanwhile kings of the internal combustion engine age such as General Motors (NYSE:GM) and Volkswagen (ETR:VOWG_p) are falling behind.
Nearly a quarter of the cars sold in China in the first five months of this year were powered by batteries, according to data from China Association of Automotive Manufactures.
Meanwhile BMW sold 208,507 vehicles in China, its biggest market, in the first quarter, marking a 9.2% drop from a year ago, according to a company filing.
($1 = 6.6983 Chinese yuan renminbi)
BMW starts production at new $2.2 billion China plant to ramp up EV output
Article: investing.com
Asian Stocks Down After Fed Chair Acknowledges the Risk of a Recession
(C) Reuters
By Zhang Mengying
Investing.com – Asia Pacific stocks were mostly down on Thursday morning as investors assessed the monetary policy outlook after U.S. Federal Reserve Chair Jerome Powell acknowledged the risk of a recession.
Japan's Nikkei 225 stabalized by 8:45 PM ET (1:45 AM GMT).
South Korea's KOSPI edged down 0.10%.
In Australia, the ASX 200 rose 0.30%.
Hong Kong's Hang Seng was up 0.62%.
China's Shanghai Composite was up 0.39% while the Shenzhen Component was down 0.49%.
U.S. 10-year Treasuries yields declined two basis points to 3.13%.
Investors' concerns grew as Fed Chair Jerome Powell acknowledged the risk of a recession. Powell said that an aggressive interest rate hike could lead to an economic contraction and called a soft landing "very challenging" in his testimony to the Senate Wednesday.
"We are still in an era where uncertainty is elevated and is expected to remain so for quite a while," Advisors Capital Management portfolio manager JoAnne Feeney told Bloomberg.
"It's risky right now in terms of the forward outlook for the global economy. Recession risk has clearly risen."
Powell "has acknowledged that rates will continue to increase, but the FOMC committee is cognizant of watching incoming data, suggesting the Fed will not be exclusively on autopilot with tightening," Integrity Asset Management portfolio manager Joe Gilbert told Bloomberg.
Powell will continue his testimony to the House later in the day.
On the data front, U.S. initial jobless claims is due on Thursday while U.S. University of Michigan consumer sentiment will be released on Friday.
Asian Stocks Down after Fed Chair Acknowledges the Risk of a Recession
Source: investing.com